We're excited to lift the curtain on our latest project at Revel Surf / Cannon Beach in Arizona! This sneak peek is just a glimpse of what we've been working on – our second installation in the US, and notably, our most space-efficient UNIT Surf Pool to date.
Revel Surf Park
Revel Surf is more than just a surf park; it's a comprehensive destination for all things surfing and leisure. With amenities like their very own dynamic wave system Swell MFG, a diving lagoon, luxurious hotels, and retail spaces, Revel Surf is set to be a holistic experience for visitors. Our UNIT Surf Pool is the perfect addition to this diverse setup, complementing the artificial dynamic wave pool of Swell MFG with our standing deepwater wave.
Matt Gunn from Revel Surf on UNIT Surf Pool's latest installation:
The Unit Wave is impressive in its quality and wave. The experience has been fantastic for all levels of surfing and everyone is having a lot of fun. It's an ideal fit for our park and we all can't get enough. Everyone comes back for more!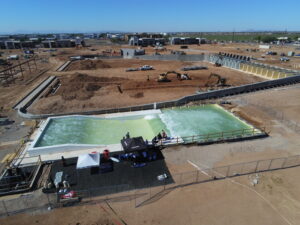 First embedded UNIT Surf Pool
Our new installation at Revel Surf represents a significant step forward in our journey. The compact design, fitting perfectly into a 36 meters by 14 meters custom-built concrete basin, showcases our commitment to innovation and efficient use of space. It's a clear demonstration of how we're adapting our technology to suit different environments and needs.
The versatility of our UNIT Surf Pool makes it an ideal choice for Revel Surf. It caters to a wide range of surfers, from beginners taking their first steps in surfing to seasoned pros looking for a consistent wave to train on. This inclusivity is key to our design philosophy, ensuring that everyone, regardless of their skill level, can enjoy the fun of surfing. Surfers can start with the UNIT Surf Pool, honing their skills in a controlled environment, and then take their learnings to the dynamic and challenging waves of the Swell MFG wavepool.
And this is just the beginning. We're gearing up to reveal more about this exciting project. As they are preparing for the full launch. Preliminary opening date is set for Q2 of 2024.
Stay tuned for more updates from us at UNIT Surf Pool.