Exciting news for all surfing enthusiasts! The much-anticipated construction of the Havelwelle in Potsdam has officially commenced. This project, which has been in the pipeline for a remarkable three years, promises to be a game-changer in the world of surfing.
World's Largest Indoor Surfing Experience Havelwelle isn't just any surfing facility; it's set to be the world's largest rapid indoor surfing arena. Nestled in Potsdam-Süd, near the Rehbrücke train station, this innovative venture is the brainchild of passionate surfers and entrepreneurs, Ginette and Enrico Rhauda. Their vision? To make the joy of surfing accessible to everyone, regardless of their proximity to the coast.
More than just "waves Beyond the waves", Havelwelle is a holistic experience. Early risers can catch the dawn waves, while sunset lovers can ride the evening tide. For those looking to extend their stay, the facility offers unique accommodations in the form of "Rolling Tiny" houses. And if you're feeling peckish after your session, a restaurant on the 2nd floor awaits, offering panoramic views. Not to forget, a rooftop terrace to unwind and soak in the ambiance.
Sustainability at its core in today's age of environmental consciousness, Havelwelle stands out with its commitment to sustainability. The construction emphasizes ecological, energy-efficient methods, ensuring that the thrill of surfing doesn't come at the planet's expense. Additionally, their newly launched online shop showcases a range of sustainable products, all made in Germany, echoing their dedication to eco-friendly practices.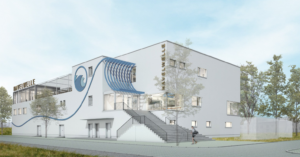 Havelwelle is more than just a business; it's a community. As construction progresses, they aim to involve the local community in various design aspects, truly making it a venture by the people, for the people.
In conclusion, the Havelwelle project in Potsdam is about building a community, championing sustainability, and most importantly, making the dream of surfing accessible to all. As the construction gears up, we can't wait to catch the wave and experience the magic of Havelwelle!
Stay tuned for more updates and get ready to ride the wave of a lifetime!