Can I Learn to Surf in a Wave Pool?
Learn to surf at your local wave pool
Surfing might look simple, but it's a difficult sport to learn. Even after you learn how to swim in the ocean, handle a surfboard in the ocean, paddle out past the breakers and time your pop-up, you gotta fight for a place in the water to get the best waves.
After all, if you wanna surf the cove you gotta earn it.
Or, if you aren't looking to get your carburateur dropped into the ocean by territorial locals, you could just drop by the community wave pool. You don't even need to know how to swim to learn surfing in a wave pool.
Wave pools are popping up all around the world as an accessible alternative to surfing in the ocean with no swimming required. Wave pools make surfing accessible to people who don't live near the ocean or any body of water.
At a wave pool the surf is always perfect – and you don't need to fight the locals to enjoy it.
SURFING LESSONS WITH LESS HASSLE
Learning to surf in a wave pool is a little different than learning to surf in the ocean, but according to Wave Pool Mag, "the basics that fast-track surfers from kook to capable are constant."
There are a lot of benefits too. No paddling out means you get all the fun of catching a big wave without the work. That way you'll have more time to focus on the fun and improve your technique. You won't have to wait for the perfect conditions either – the waves are always perfect at the wave pool. You can even learn how to surf in the middle of the city.
Gwenna "Gigi" Lucas founded the organization SurfearNEGRA to make surfing more accessible to young girls of color. Their ¡100 Girls! program funds girls to attend surf camps in their communities.
Lucas said wave pools are a tremendous tool to learn surfing for people who have otherwise been shut out.
"I also think that ready access to wave pools will help deconstruct many of the stigmas and barriers that currently exist with People of Color and swimming," she said. "The limited amount of access certain groups have historically had to public waterways and pools unfortunately bred a culture that doesn't have a relationship with the ocean or water. And, therefore, created generations that don't swim. It's not because they can't swim. They don't because that's not the culture."
A SAFER WAY TO SURF
Wave pools are much safer for beginners than paddling out into the ocean. You don't need to know how to handle a large swell or what to do if you get separated from your board. There's also no undertow or strong currents, and no risk of encountering a stingray or shark. It's a much more comfortable environment.
Lucas added, "As wave pools become more accessible it will become another incentive for young kids to learn to swim that will, hopefully also encourage their parents to partake as well."
Kids who grow up near the ocean can be exposed to surfing at an incredibly young age – or at the very least know how to swim with the current and duck dive under crashing waves. Wave pools can provide a place to learn surfing basics without access to the ocean.
"This will highly benefit those who don't live near the ocean," Lucas said, "which tend to be People of Color as a result of redlining and other systemic issues that create our current reality."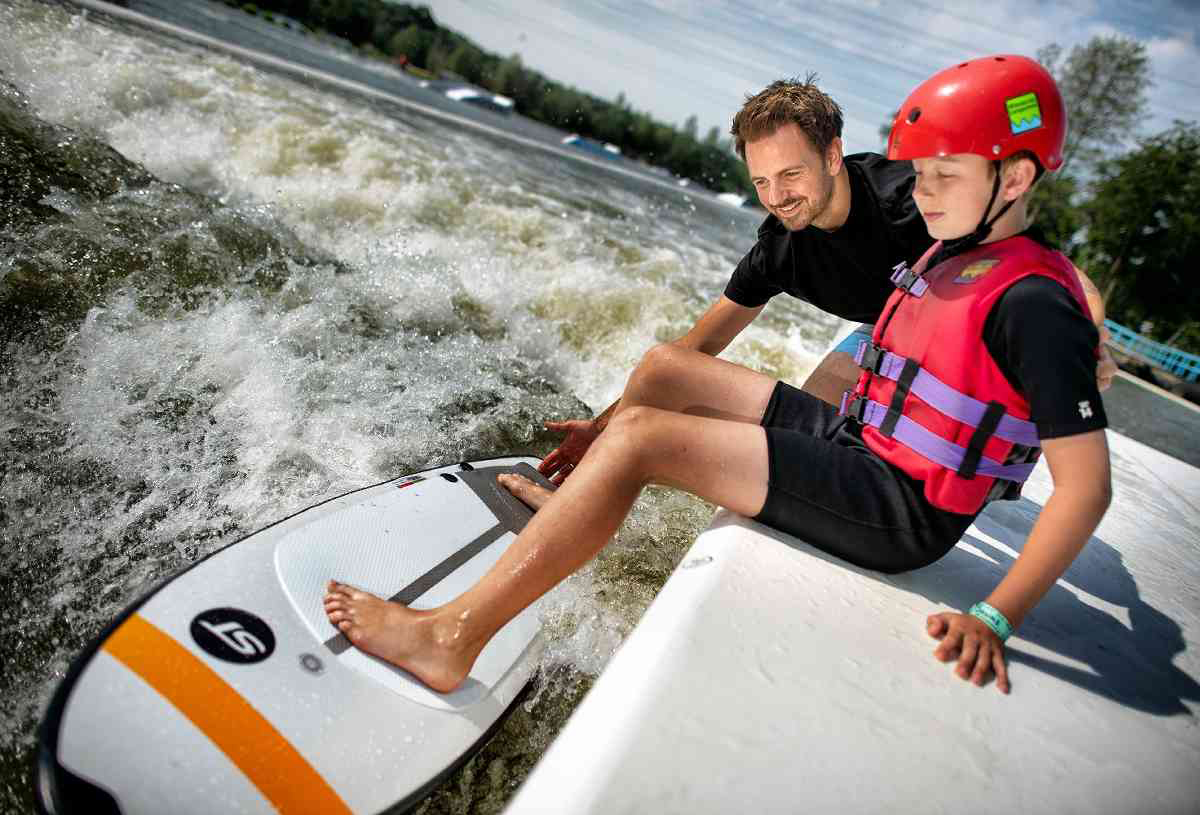 COMMUNITY WAVES
Wave pools around the country are being developed as places where the community can come together. One of the most popular spots is the BSR Surf Park in Waco, Texas, which opened to the public in 2012 with the addition of the BSR Cable Park – a cable system that pulls wakeboarders across the water.
Since then the park has added a lazy river and a series of four giant slides called the Royal Flush. It features three wave pools for riders of different skill levels – beginner, intermediate and expert.
In Mesa, Ariz., X-Games gold medalist and former world ranked pro surfer Shane Beschen is currently helping to develop the Revel Surf Park. It will feature "full-service cabanas, a concert area, surf coaching, retail, dining and other amenities."
One of the consultants on the Mesa project – and the proprietary new Unit Surf Pool Technology it will employ – is the inventor of wakeboarding, Tony Finn.
Finn told Wavepool Mag the new wave pool will be a place for everyone.
"From what I know with all my experience at Waco and other parks around the world is that the big wave will be crowded, but also too difficult for many people to use," he said. "When you build a surf park, the most important thing you need to think about is building Community, Community, Community!"
Lucas also feels like everyone in the community could benefit from a little exposure to surfing.
"I truly believe that any time you get any kind of water therapy, especially surfing, it diffuses all anxiety or stress," she said. "So I think the more people who get access to something like this, the better."
She added that the ocean can be a great equalizer.
"When you're in the ocean, all of the adjectives go away: male, female, black, white, rich, poor, whatever, it goes away because the ocean doesn't care," she said. "You just have to respect it and respect your place in it."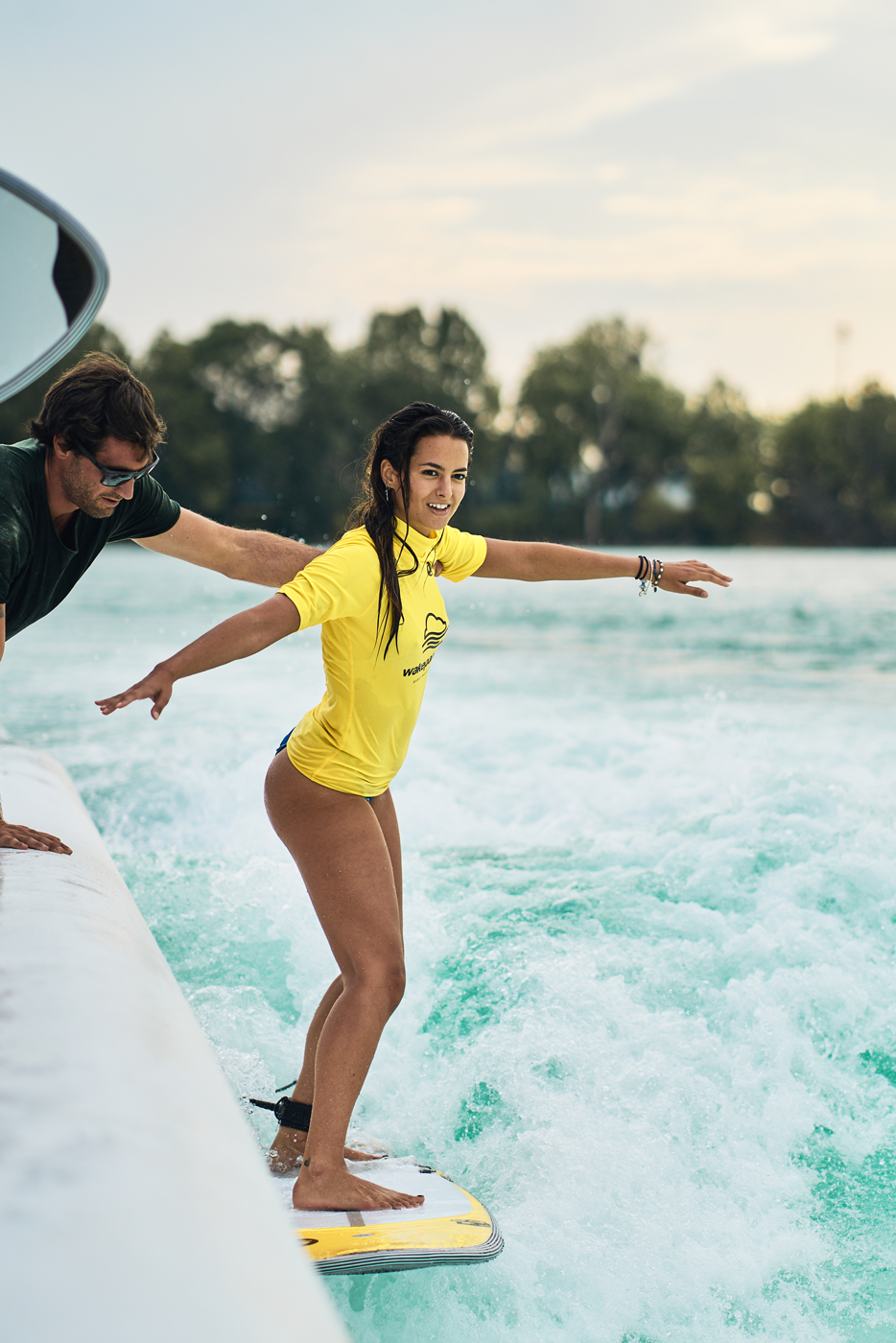 THE SURF IS ALWAYS UP AT THE WAVE POOL
But before you experience that mutual respect with mother nature, you have to learn how. Wave pools can even be a better place to learn surfing than the ocean itself, especially for people who aren't strong swimmers.
The idea for one of the more buzzworthy wave pools currently being developed came from a college thesis project. Alec Yuzhbabenko was an architecture student at Virginia Tech in 2013 when he came up with the idea for a surf park near the Oceanfront district in the city of Virginia Beach, Va.
When local title and escrow company owner Joe LaMontagne saw Yuzhbabenko's proposal, he took it to the city council. The project – The Wave at Atlantic Park – is currently being developed by a group of investors including music legend and Virginia Beach native Pharrell Williams.
"People liked it because it was rooted in the culture of Virginia Beach," Yuzhbabenko said, calling the project part of "a self-sustaining live, work, play idea."
Yuzhbabenko said he was inspired by his own experience as a surfer growing up there – those days when he wanted to surf, but there weren't any waves. "The demand was there, but the waves weren't," he said. So he created them.
Now the community can learn to surf there and enjoy good waves year-round.
Action sports like surfing have been shown to improve mental, physical and social health. They emphasize creativity, individualism and expression, and can decrease anxiety.