The Inertia Interview: 5 Questions with the Makers of UNIT Surf Pool
A few months ago, a German company called UNIT Parktech made a splash in the wave riding world when it debuted its UNIT Surf Pool, a transferable apparatus that looked as if Munich's Eisbach Wave and a Flowrider hooked up and made babies. But the UNIT concept captured imaginations–especially those of the ever-dreaming landlocked surf aficionado: the UNIT is movable from one locale to another, for places like lakes and flat, open rivers. It's environmentally friendly, in that it doesn't use a ton of energy to run (less than 340 kWH, according to the company), it recycles all its water unlike indoor Flowriders and it's a lot less expensive to build than some of the extravagant parks currently in different phases of construction. So a company that specializes in wakeboarding park features has added another wrinkle to the search for the endless wave. We caught up with UNIT's Marie Hermann for a download.
How many UNITS are in production? Where are you in the manufacturing process?
We are very motivated to sell a second surf pool since we've learned a lot with the first project at "Surf Langenfeld" and we have also been able to further improve the product. We do have a handful of serious prospects but at this point no definite commitment to start production on our V2 Surf Pool unit. Right now we would be looking at a three-month production period.
Is the Unit for freshwater only or does it work in salt water as well?
Both. Originally the UNIT Surf Pool had been designed for fresh water, but we can also implement pumps that are equipped for salt water.
So how is that thing anchored in place in the water? How does that work?
There are different options depending on the body of water and the ground structure. Anchoring is definitely an easy one and we use the same technique for our wakepark features.
What is the material you're using, like where you stand before getting on the wave and then the actual feature to create the wave?
It is the same "High-Density PE" that we're using for our wakeboard features. We have a lot of experience with HDPE welding and production since it has been our core business for 10 years now. We knew that we had the right skill set and knowledge to design the UNIT Surf Pool as an efficient and long-lasting product.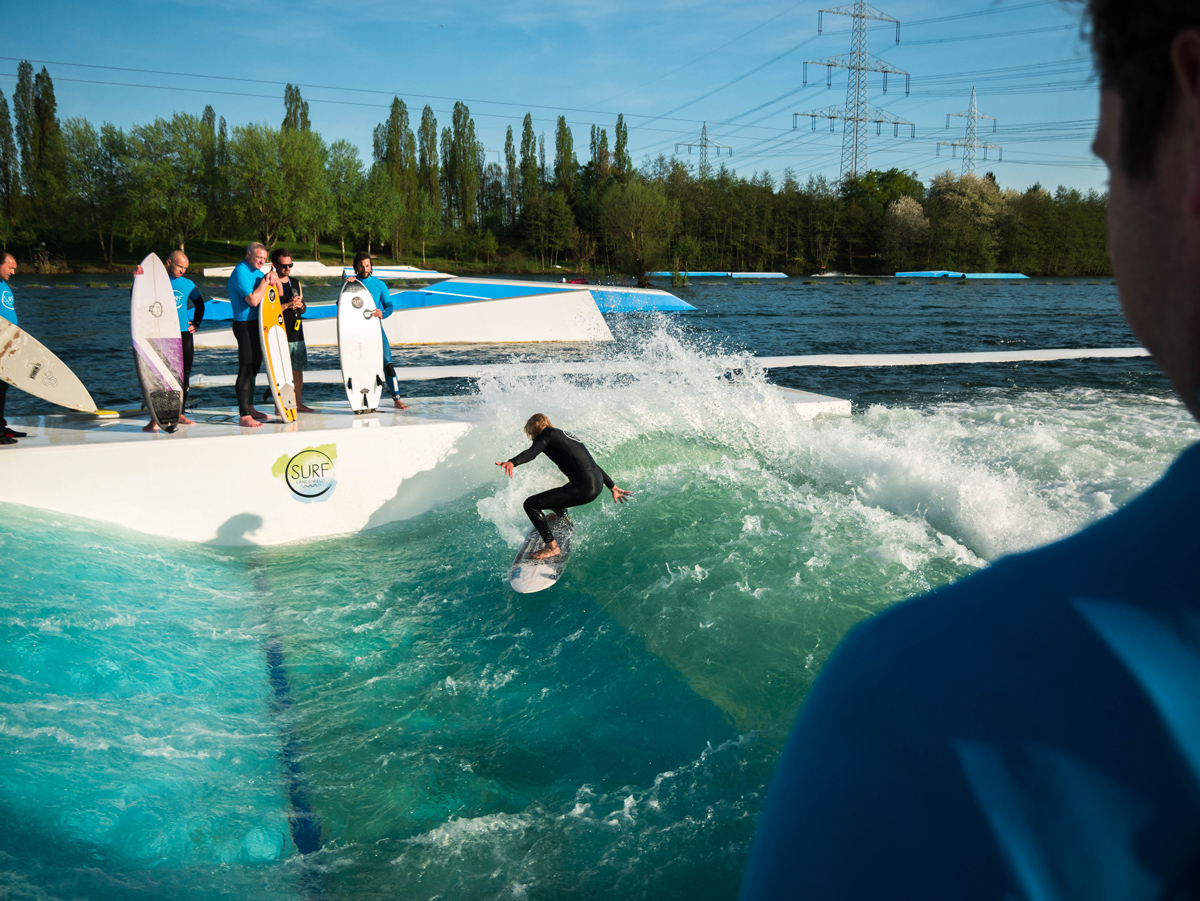 Where does the concept come from? Is the actual wave based on the Flowrider design or more on the wave in Munich?
We studied a lot of stationary waves (man-made or natural, like the "Eisbach" wave in Munich). UNIT Parktech is world market leaders in the construction and design of floating wakepark features, so naturally, we wanted to use our knowledge to create a floating construction. During the whole one-year process of inventing and building the UNIT Surf Pool, we only hired one additional employee specialized in fluid dynamics. We've also looked at the market for artificial wave products and found a gap between the "Fowrider" designs and complex $3-13 million-dollar projects. With the UNIT Surf Pool, we are looking to bridge that gap.
Editor's Note: The UNIT is designed to come in different widths including eight, 10, 12, 14 and 16 meters wide but can be expanded in increments of 2 meters. The smallest size (8 meters) starts around one million euro.